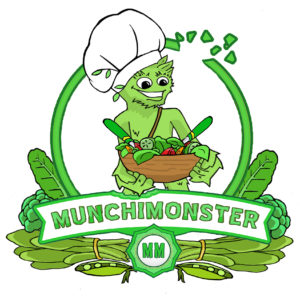 BE LIKE 'CHEF-MUNCHI!     
START OUT WITH SIMPLE RECIPES!  TOSS A NUTRITIOUS, CRUNCHY  SUPER-SALAD IN A BOWL!
USE LOCALLY GROWN-VEGGIES! YOU CAN GROW YOUR OWN OR VISIT A FARMERS MARKET!
SOON YOU WILL BE ABLE TO MAKE  100 DIFFERENT RECIPES!
CHEF MUNCHI GROWS SPINACH, PEAS, KALE, BROCCOLI! EAT S-P-K-B  TO TURN ON YOUR MUNCHI POWER!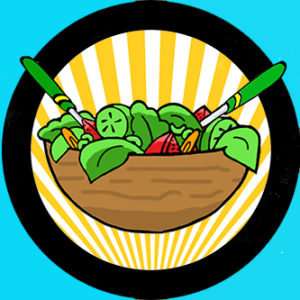 *EASY RECIPE 1*   
'JUNGLE SUPER-SALAD'! 
    INGREDIENTS
1-SALAD GREEN BASE: Lettuce & Spinach
2-SALAD GREEN BUILDERS: Cilantro, Parsley, Beet Greens, Kale
3-SALAD ADD ON: Cucumber, Carrot, Tomato, Celery, Avocado (good fat!), Beet, Bell Pepper
4-GARNISH: Croutons, Sunflower Sprouts, Onion, Peas, Cheese,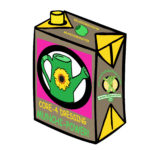 Beans, Olives, Sprouts, Pear & Apple!                                                                      
Add MUNCHI'S CORE-4 SALAD DRESSING: Olive Oil (good fat!), Balsamic Vinegar, Salt & Pepper to taste!
*EASY RECIPE 2*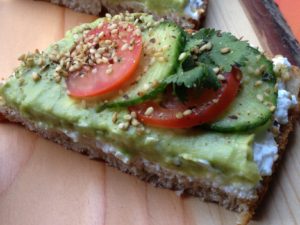 'SPREAD & SPRINKLE' SANDWICH!
NO-BAKE, EASY, NUTRITIOUS!
INGREDIENTS: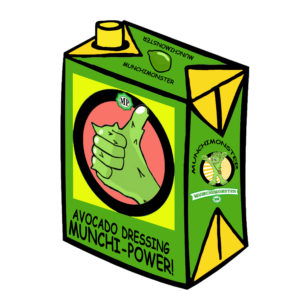 1- BREAD  OR TORTILLA BASE                                             
2-SOFT CHEESE
3-SMASHED AVOCADO-SPREAD ON TOP OF CHEESE 
4- NEXT LAYER: TOMATO, CUCUMBER, SPINACH etc!
5- SPRINKLE with TOASTED SESAME, SALT & PEPPER,  
ONION FLAKES, GARLIC, SEAWEED FLAKES!
DRIZZLE ON MUNCHI'S 'THUMBS UP-AVOCADO DRESSING' ON TOP, OR ANOTHER FAV! *SOON: RECIPE 3 IS THUMBS UP DRESSING!*