GAME APP MUNCHI POWER!™ = Energized Kids! Its a nutritious feel-good time! 

TURN ON YOUR MUNCHI-POWER!™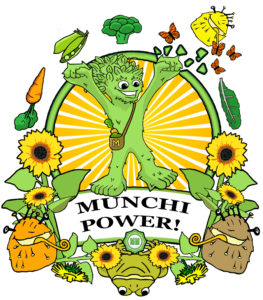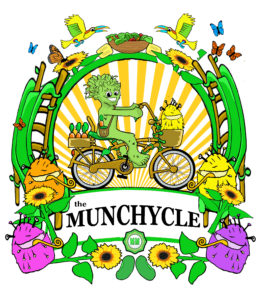 FEED MUNCHIMONSTER fruits & veggies to Turn On His MUNCHI POWER!® 
MUNCHIMONSTER wants to ride his rad bike to the Super-Salad jungle party. But due to a mischievous 'detour trick' played by henchmen, Fooey & Phartus, his bike is broken into pieces! Collect & assemble the bike parts to ride to the Super-Salad party in style!
USE MUNCHI POWER!® to defeat the KRUD KING! Shut down the krud-grub factory. Operate a crane and mega-pincher to sort green grub from krud. Empty the Infinity Dumpster with the Hose and stop litter! Ride the factory platform belts to safety. Free the Butterfly Posse. Turn the toxic soda river back to glorious blue! 
GRUMMICHUM HELPERS, Boing off them to avoid snapping hippos as you navigate wild river rapids, catch an ancient cave wind, dodge white spider squads, and soar over giant crystals.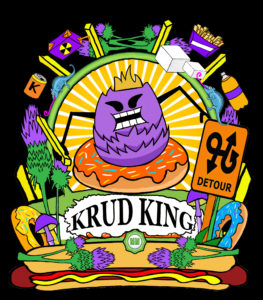 CHALLENGES: Fly Munchimonster's Environaut, (carrot-rocket ship), up Fang Mountain and escape biting panthers! Aim apple projectiles at the KRUD KING & beat the boss!
PRIZES: Collect prizes at Munchimonster's treehouse. Plant magic seeds in his vegetable garden and see what grows! Join him on a free-wheeling wild ride to the jungle Super-Salad party! WOO-HOO!
BE ENERGIZED! Turn On Your MUNCHI-POWER!™ 
MUNCHIMONSTER says, 'GIVE ME GREEN GRUB'!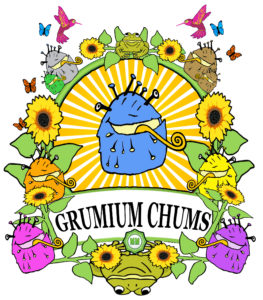 GAME FEATURES: 
BIKE JUMPS Catch air off the jungle jumps
RAPIDS Hop lily pads on the river rapids
PHYSICS Catch an ancient wind in the Crystal Cave
PLATFORM PLAY Ride Krud Castle's factory conveyor belt system!
VERTICAL PLAY Fly Munchi's rocket up Fang Mountain                               PROJECTILES Beat the Boss! Fire Blamapples from Munchi's Carroketship!
BOING Bounce off the Grummichums for spring action
POWER UP! Fruits! Veggies! Turn On Your MUNCHI POWER!™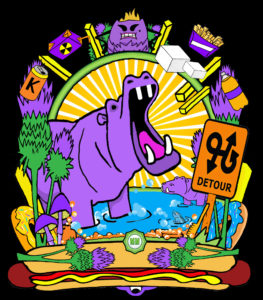 HENCHMEN Clear your path! Stop Fooey & Phartus' stinko dumpster    ANIMAL OBSTACLES Hangry hippos, panthers, and mischievous kinkajou
SPECIAL THANKS GRUMMICHUMS! Baburu Chan, JamJam, Slurples, Lichen, Lost Dumpling, Hairy, Twuffles, Tookla, GHLOE, Goostoovi, Binni, Chazzle, NitNoi, Asangi, and H3-I-O
BUY TODAY IN THE MUNCHI POWER! STORE!
GAMEPLAY CLIP FROM THE ROUGH DRAFT ©: