MUNCHI-POWER! entertains as it sows seeds of vegetables & love!  
JOIN THE MUNCHIMONSTER FAMILY & become a Munchimonster! It feels great! Swing on a vine, read, make animal pals & race around with the GrummiChums! Eat Super-Salad & grow your own sustainable garden! GO-GREEN-GRUB-GO!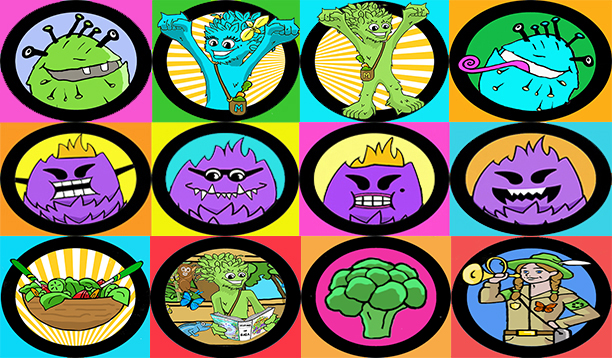 MUNCHI-POWER! characters Professor Heart, Munchimonster, The Kruddys, and the Avatars ofd Gaia are taken from the children's sustainable adventure book: 'AVATARS OF GAIA, Escape From Hazard Hollow', an inter-dimensional tale about camping, healthy food choices, becoming a steward of the Earth, activating one's special power, and using sustainable skills to save the dimension of the living Earth, Gaia, from the rotten Krud King of Hazard Hollow! 
The yearly Scavenger Hunt between rival camps, Avatars of Gaia and the snooty Camp Champion, will decide who wins a fancy new canoe and the treasured golden trophy! Losers will have top clean the winners camp for 1 month! Can the AOG kids save nature in time to return to their world and win the Scavenger Hunt? Not everyone plays fair!
After sighting the legendary gigantic white falcon and discovering a letter from the revered long lost ranger, Iron Betty, Professor Heart knew the summer would be like no other and that Iron Betty was still alive! 
DISCOVER & ACTIVATE YOUR SPECIAL HIDDEN POWER & BECOME AN AVATAR OF GAIA! WONDROUS THINGS ARE WAITING TO BE DISCOVERED IN THE SECRET LANDS OF THE LIVING EARTH 🙂